Stevie's experience
Stevie suffered two concussions on the 19th January and the 2nd February 2020, leaving him no choice but to retire in January 2021. Having sustained these injuries, Stevie is living with the after-effects in 2022.
Daily, he struggles with migraines, dizziness, motion sickness, sensitivity to light and screens, short-term memory issues, slurred speech, and an inability to exercise or do daily tasks.
After wrestling with these symptoms for 18 months, Stevie decided to leave the UK to reduce exposure to daily stressors and environments that trigger his symptoms.
Stevie has spent the last six months in Mexico, Costa Rica and the United States trying out different treatments and taking some much-needed time out to recover.
There are days when he feels like he is seeing improvements.
There are days when he can look at screens without getting a headache. Days when his symptoms are not debilitating.
But there are days when he feels like his condition is not seeing any improvements.
Stevie is grateful to be able to document his journey and pioneer post-concussion awareness in sports.
He feels grateful to know other athletes who are experiencing similar symptoms in 2022 and have a platform to come and work it out together.
Concussion Clubhouse
Alongside Nick Youngquest and Joe Williams, Stevie Ward has created a concussion clubhouse.
The Concussion club is a place where people can come to support one another and get a better understanding of post-concussion syndrome.
The purpose of the group is to provide a safe space where people living with the symptoms of concussion can share their journey, validate their challenges and understand the best ways to manage life.
The group also serves an educational function where members can share information about new treatments and learn about the different paths to recovery.
The group will be operating with the best advice from the world of professional sport and medicine. Having this professional support is unprecedented in the concussion space and Stevie believes this professional support will be crucial for those going through post-concussion syndrome.
Stevie Ward speaking on the Concussion Clubhouse:
"The nuances of these injuries and the lived experiences will be at the top of the agenda and we understand that everyone has different experiences of what is deemed as the same injury.
The first session took place yesterday 5th April and it got off to a great start. With Elite athletes, amateur athletes and people who are struggling with neurological implications or post-concussion syndrome.
From the first session, we had a mix of athletes and people from across the world, from all walks of life. We had American football players, Boxers, Rugby players Jockeys, and swimmers who are all enduring and experiencing the difficulties that come with brain injuries.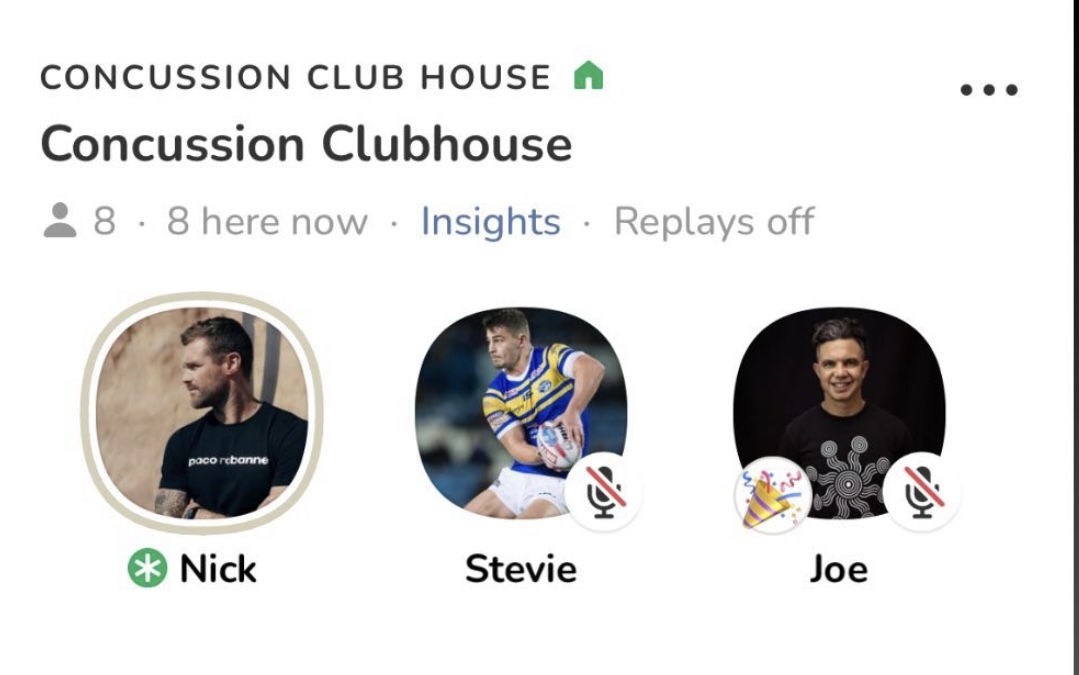 If you know anyone who is struggling with these issues and health conditions please share it with them and they will get started in creating one of the most powerful communities. This is not for the detriment of sport this is to come together and build a voice for athletes who are struggling right now.
The Clubhouse will run weekly on Tuesdays and at a time which is possible for people to join from across the world".
You can register at the Clubhouse by pressing the link below. Once you've signed up for the email list you will receive the latest updates and notifications for when the weekly calls are held.
You can also access the Concussion Clubhouse by downloading the Athletes for life Clubhouse app.
If you're going through a concussion or neurological problems you should not have to go through it alone. The Clubhouse is a safe place, where athletes and non-athletes can empower each other and support each other through the waves of symptoms.
Sign up to Clubhouse Call
Register to Concussion Clubhouse
CLUBHOUSE APP (APPLE)
CLUBHOUSE APP (ANDROID)
If you want to learn more Stevie's experience with post-concussion syndrome, you can watch the documentary, pressing the link below.