In September 2016, Shane Prendergast will undertake a mammoth task; cycling 3200 miles across the United States of America in order to raise money for children with deafness or cancer. If that is not impressive enough on its own, Shane is profoundly deaf himself. His disability makes this task significantly more challenging and dangerous, and his efforts in completing this Herculean quest all the more astonishing. It will take him twenty-eight consecutive days of riding to finish his extensive journey, spanning coast-to-coast as he travels from San Francisco to New York. 
Shane's journey is in aid of two extremely valuable charities. They are not only valuable to the people they support but hold a special place in his heart. His family life was turned upside down when, in 2012, his mother was diagnosed with breast cancer, which she managed to successfully fight. Inspired by her, Shane's first charity is CLIC Sargent. They provide both practical and emotional support for young cancer patients aged twenty-four and below. The support comes in various forms and they ensure they are there from the initial diagnosis onwards, helping families deal with the impact of cancer – its treatment, life after treatment and, in some cases, bereavement. Shane hopes that the money he raises can directly make a difference to the lives of children and their families who are experiencing cancer. His second beneficiary holds just as much weight as his first; Action on Hearing Loss. At the age of twelve, Shane was pronounced deaf. Despite wearing hearing aids throughout his teenage years, his condition progressively worsened, and by twenty-one, he was certified was profoundly deaf. Shane has faith that a charity like Action on Hearing Loss can really make a positive difference on the lives of deaf people and help to reduce the stigma associated with the condition, as well as breaking down barriers and limits for those living with it. 
Shane claims that being deaf is undoubtedly the biggest challenge of his life. His resilience is extremely admirable and here at Mantality, we were intrigued to find out his thoughts as he prepares for this incredible challenge; a challenge that most of us would never even dream, even with our key senses intact.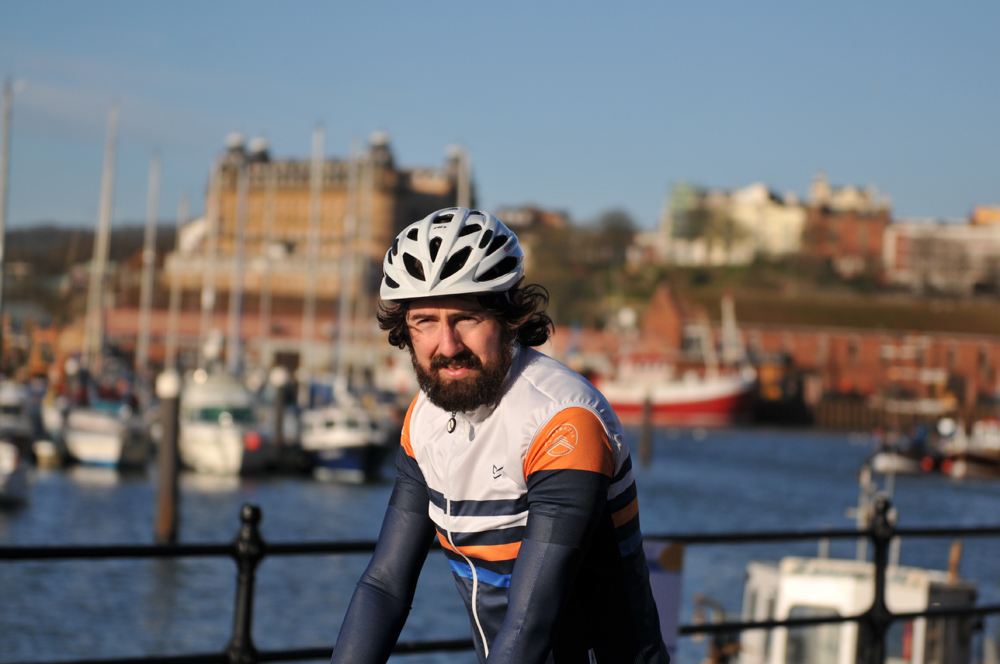 What inspired you to take on this challenge?
My father has undertaken several bike rides and raised over £50k for charity in the process. His main rides include across America, Australia, Canada and around the coast of Britain. I'm immensely proud of my father and he is the inspiration behind my ride.
How did you come to the realisation you are ready for this challenge?
Ha! I'm not! At the nine-month stage, I'm at a point where I can reach 120 miles but it's the continuous days that I can't physically prepare for as I only get the weekends to train properly. My body might be able to cope with three or four days but I will only find out in America how it deals with a week. I'm trying not to think about four weeks yet!
What training have you been doing to prepare, both mentally and physically?
Being a novice cyclist, the best decision I made was to get myself a trainer. Over the last nine months, I have been working on my legs and core, two fundamental muscle groups used for cycling. That took longer than expected and it's only recently that I have been able to start to up my mileage. Mentally, it has been really, really tough. I underestimated that aspect of it and some of my most challenging moments have been mental ones. I would go as far as saying the mental battle is the hardest. However, I've amazed myself at what my body will achieve when my mind tells it to.
What thoughts go through your head when you think about the challenge ahead?
Instead of thinking about the huge challenge ahead, I have been set weekly goals to achieve by my trainer. By doing this, it prevents me from freaking out about the huge challenge ahead and instead focusing on the smaller goals that will ultimately help me achieve the big one!

What form does the ride take?

I will ride around 120 miles each day for 28 consecutive days. This should take me around 7-10 hours depending on the terrain and once finished for the day, I rest up before going again the next day. We will need to set off as early as possible to avoid the higher temperatures later in the day. I would rather not cycle at night. In addition to the road dangers and my deafness, there are also some dangerous animals knocking around!

How will being deaf affect your ride and what challenges will you face because of your deafness?
I need to ensure I'm safe at all times. I will have to adapt to the American roads very quickly and ensure I'm always aware of my surroundings and any dangers. I have been told that there are some huge vehicles on the roads and some of the surfaces aren't too good. My father was also chased by wild dogs when he was in America but let's not think about that one!
How do you push through when your body is at the extreme level of fatigue?
I've had some really awful moments being hungry, thirsty and just absolutely exhausted. No amount of physical training can prepare you for these moments; you just have to push yourself mentally. The saying that "the body achieves what the mind believes" is very true.
Being deaf, do you consume more energy through using your other senses? And how will this affect you on the ride?
Thankfully, I have had plenty of practice riding without sound so it has become second nature for me. However, I do have to be extra cautious in America. I will be in unfamiliar surroundings and on the opposite side of the road. It's vital that I stay safe and reach the other side of the country!
What kind of thought processes will you use to get through the ride?
I will be joined by a support team and we will have a routine in place to help suit my needs; for example, meeting at 30 mile intervals to refuel and top up my water supplies. I will also have a larger meal at some point during the day. Post ride, I will need some massages and plenty of rest before I go again the next day. I'm hoping my body will soon get used to the routine!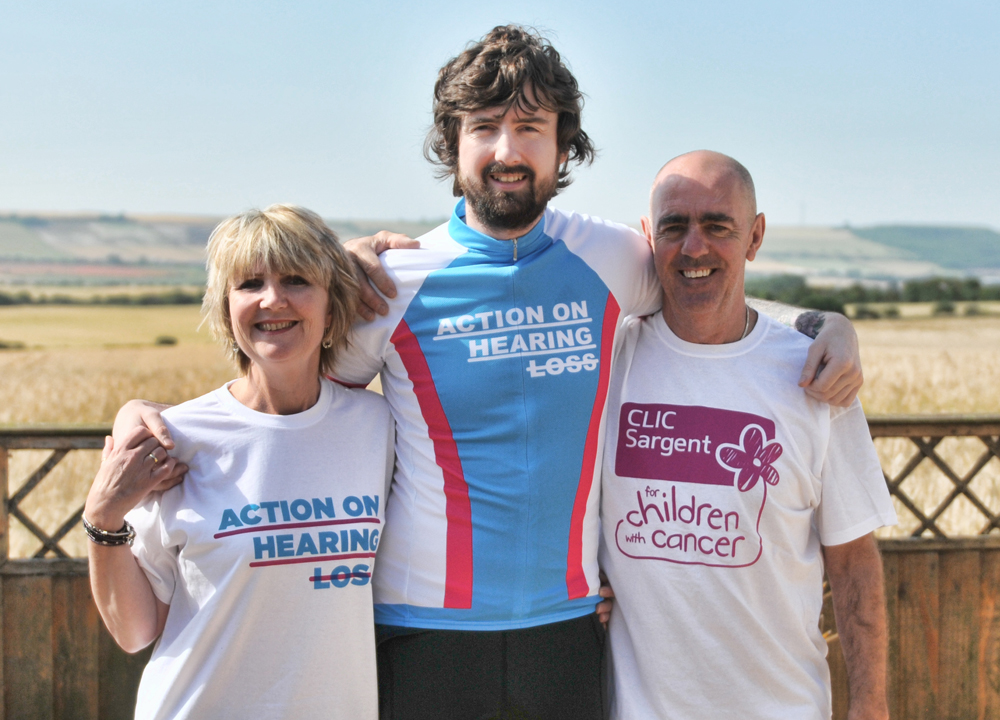 Who has set you this challenge and where has the desire come from?
I struggled with being deaf for a number of years. Since I came to terms with it in my mid-twenties, I have always been a very determined person. I have wanted to do my mother and father proud by following in his footsteps and I think I'm at a good point in my life where I can now achieve this!
Not being able to listen to music, what entertainment will you use on the journey?
I think about lots when I'm cycling; it's really peaceful and the perfect scenario to think clearly and collect your thoughts. Also, I sing quite a lot! I have absolutely no idea how bad it sounds but it keeps me occupied!

Have you done anything of this scale before?
No. Although I did a bit of cycling years ago, I have never done any endurance activities. I thought that I was fit before I started but it has been a huge wake up call for me!

What statement do you want this bike ride to make?
In addition to completing the challenges and raising lots of awareness and money for my chosen charities, I want to prove that people with disabilities, or any problems for that matter, are not restricted in what they can achieve in life.
Shane's determination is utterly inspiring and we wish him the best of luck with his 3200-mile ride. To read more about Shane's challenge, visit his website at www.rideforthechild.co.uk and his donation page http://uk.virginmoneygiving.com/fundraiser-web/fundraiser/showFundraiserProfilePage.action?userUrl=rideforthechild
---
Action on Hearing Loss (formerly RNID) is the national charity helping people confronting deafness, tinnitus and hearing loss to live the life they choose.  Action on Hearing Loss enables them to take control of their lives and remove the barriers in their way, giving people support and care, developing technology and treatments, and campaigning for equality. For more information or support please visit www.actiononhearingloss.org.uk or call the Information Line on: 0808 808 0123 / Textphone: 0808 808 9000 
CLIC Sargent provides vital emotional, practical and financial support to young cancer patients and families during and after treatment, and we take what they tell us about the impact of cancer on their lives to service providers and policy makers to help change things for the better. For more information or support please visit www.clicsargent.org.uk or call: 0300 330 0803