I always feel reluctant to use the hashtag #RoadToRio.  I feel like I haven't earned it, until I'm on the Brazilian motorway to the Maracana Stadium, and I've actually made the Olympic team. Literally, on the road to Rio. But with the Olympic Games less than three months away and the track season firmly underway, I'm excited, I'm healthy, and I'm now an Italian man.
After a number of national age-group wins, English Schools titles and sporadic small-time caps for the GB junior team, I stagnated as a sprinter, spending a few years around the 21second mark, before taking nearly half a second off my personal best in 2014.  It was a strange season.  One that involved switching coaches and a muscle-tear injury in June, keeping me sidelined for my domestic champs, before returning with a late 20.69s clocking in August.
2015 was consistent, if not anything massively impressive, with a 20.79SB and wins at the UK Indoor Champs, England Champs and UK CAU Champs over 200m.  Domestic senior titles were hard to come by, but I wasn't sponsored.  And more importantly, I wasn't making international teams.
As I walked off the track after a fifth place finish in the 200m Final at the World Trials in Birmingham last July, it hit me. I hadn't qualified for the World Championships and I most likely wouldn't qualify for the next major international.  I could spend my early-to-mid-twenties trying to make teams for GB – who were (rightly so) accepting a number of World Class sprinters like Hughes and Williams – or like these and many others, I could switch nationality.   
And so in September I initiated the move with Fidal Italia, getting myself an Italian national ID card, sending various declarations and documents, and teaching myself Italian.  It was a long shot.  But it was a #RoadToRio.
The decision to switch nationality wasn't one made out of anger or dismay.
I enjoy the sport; running fast, competing in front of crowds and keeping my body in peak condition

.
I'm appreciative of the years spent funded on my national governing body's Lottery-funded programme.  And I count myself lucky to be able to work weekday afternoons/evenings and weekends, which allows me to train in the mornings.  I just needed the opportunity to compete on the biggest stage possible.  The decision was fairly simple.  I just went with the odds.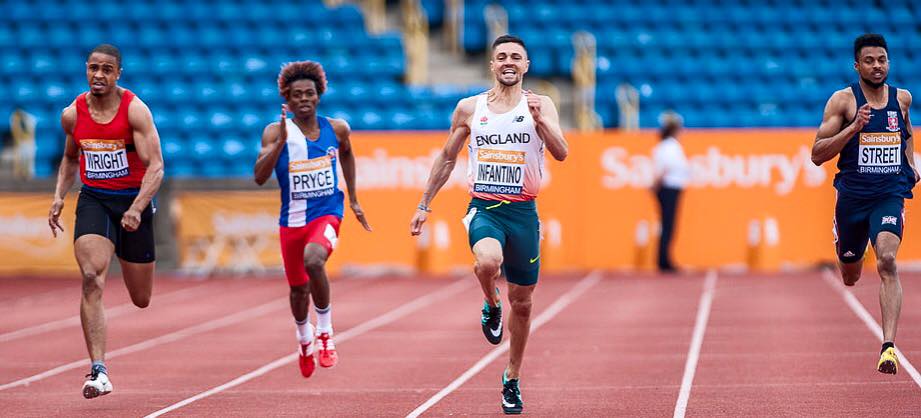 The 2016 season began horribly.  I was injured in January, and I rushed back to compete, at half-fitness. In February I went in to defend my UK Indoor title with a below-average 21.30 performance in Finland two weeks prior.  I had three weeks injury-free training under my belt; stringing together six or seven decent sessions and I felt confident.  As defending champion, I was seeded in a straight forward heat with a decent lane draw and I won comfortably, strolling round in 21.16s.  I then found out, from results on a computer screen in the mix zone, that I had been disqualified for a lane infringement on the first bend.  I frustratingly grabbed my kit and made my way to the track referee, who, uncooperative at best, sent me on a forty-minute run-around which eventually culminated in me appealing my case to a man sat behind a MacBook. Obviously, computer said no.
The final was won in a modest time, similar to that I ran in my heat.  I had lost my national title due to a track referee's mistake.  The officials were dismissive and their error costly.  I had come so far and had nothing to show for it. Though disappointed and annoyed, it's learning from failure that creates champions.  A common denominator in all successful elite performers is the Growth Mindset – an unparalleled ability to learn from mistakes and bounce back from disappointment.   
When you don't win, you learn. 
Struggling, failing and trying again, through repetitive hours of attempts and failures, is the only way someone gets good at something, and eventually perfects a skill that masquerades as talent.  And it's the reason spectators get that WOW factor as they watch a sprinter run 9seconds at the Olympic Games.  They haven't seen the thousands of hours of hard work and failures that have come before that moment.  It looks easy.  It looks magical.  But it's not.
The last few months I've put together some of the best training sessions I've ever had.  A consistent period injury-free.  And in the last stretch of road towards Rio, I opened my outdoor campaign with a 20.81s clocking on a Friday night at a rainy Gainesville, Florida.  Currently ranked as Italian numero uno, and with a few European Qualification Standards in the bag, a senior international is looking all the more possible.  The Euro Champs in Amsterdam will take place in July and will be decided June 24-26 at the Italian Champs and Olympic Trials in Rieti. 
Olympic A Standard, however, sits at a swift 20.50s, 0.19s away from my best and 0.31s away from my season opener. 
A click of a finger is the fine margin between success and failure.

 
Between Olympic Qualification and an afternoon at a British Athletics League in Hendon. I could be on the Road To Rio, or I could be on the team bus to Allianz Park. We'll find out on June 25th.