Graffiti. Murals. Tagging. Street art has changed the game when it comes to how we express and understand a city's culture. Next time you're in a major city like New York, save the museum tour for another day. Everyone hits up the Guggenheim or the Metropolitan Museum of Art. Take a gamble and see the culture of a city through the eyes of its street artists.
Ruddy Harootian leads custom art walks in New York City, specialising in street and subway art. By day, he's a concierge for a boutique hotel, but in his off-hours, he introduces a lucky few to the ever-changing face of New York's elaborately painted brick walls. Team Mantality walked around with Ruddy and got a sneak peek into how to search out the best and latest urban art.
Instagram. We hate it. We love it. We follow @thefatjewish. We unfollow our ex. But in many ways, it's the first step in discovering what's new and worth trudging out to see. The first step in your personal journey into street art: go follow some artists. There are nearly twenty million pictures tagged with #streetart. You'll get a taste of what you like, whom you like, and where their pieces can be found.
Next step, find a neighborhood. For New York City, you'll definitely want to start where Ruddy begins his journeys: the Lower East Side. This grungy and artsy hood is a haven for up-and-coming artists showing off their skills. Let the scavenger hunt begin.
Ruddy showed off one of his favourite pieces on the corner of 1st Street and 2nd Avenue. It's a large yellow dude with a boombox and subway car-inspired snapback. The artists: Os Gêmeos, which is Portuguese for "The Twins." These two Brazilian brothers (and actual twins) have a worldwide series featuring yellow characters paying homage to the hip hop culture of the Bronx while providing commentary on traditional Brazilian culture.
This piece captures the beauty and tragedy of street art. Although it's a tribute to the NYC culture that inspired these two, it also represents the fleeting reality of street art—it's going to disappear: condos are rising in the chain-linked construction zone in front of the piece. In a few months, the art is going to be gone forever. See it now.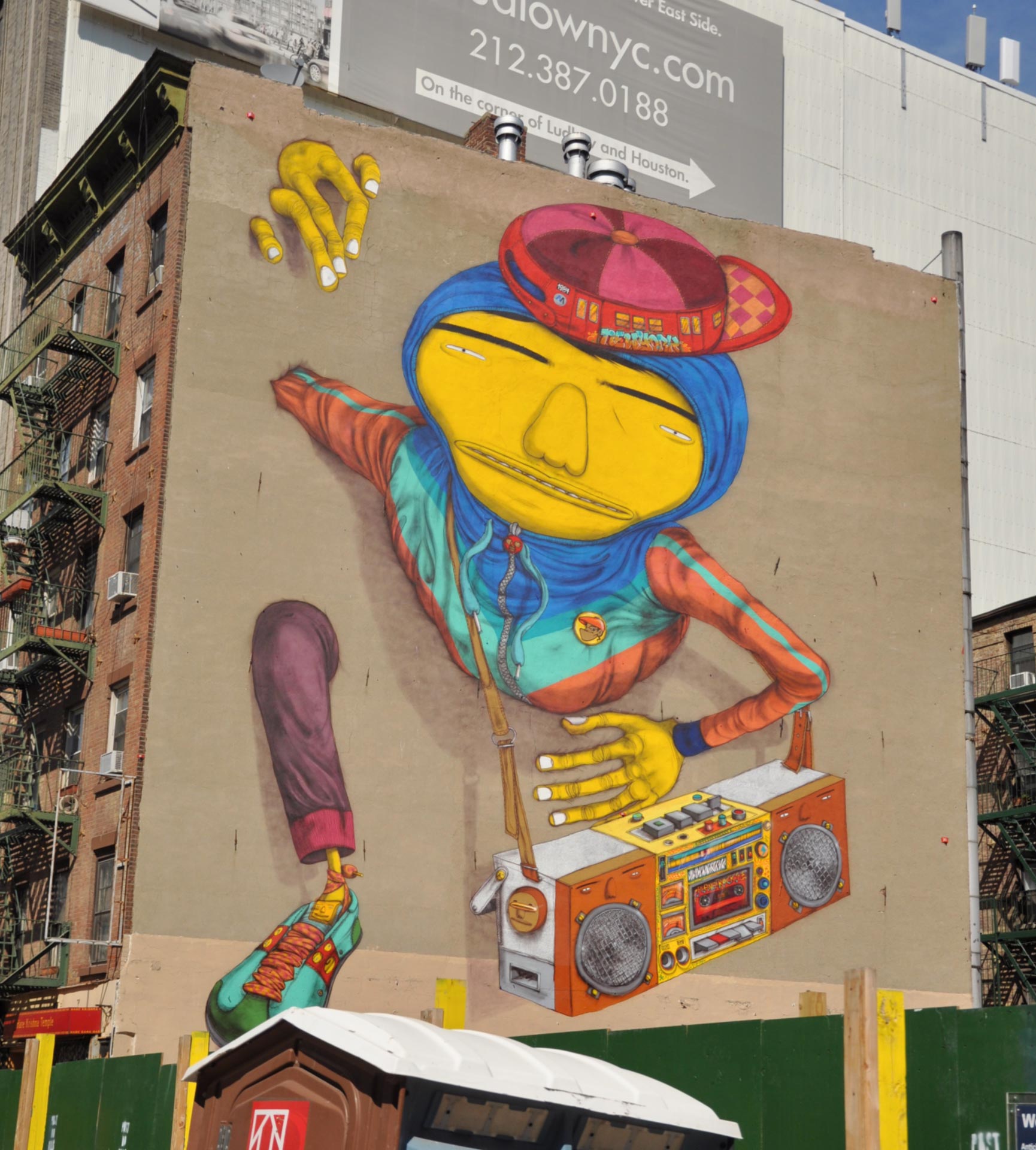 Around the corner is a large, loud piece by Tristan Eaton. It sums up New York:  a gorgeous girl, representing fashion and beauty, with the words "Big City of Dreams." It's made up of smaller homages: the Brooklyn Bridge, art deco design, even a shout out to King Kong. All of this striking beauty hovers over a parking lot. The contrast is typical of New York—soaring ideals contrasted with the reality that many get their starts living with three roomies in far out Brooklyn.
We finish the tour with an epic piece commissioned by the Graffiti Room, a café and restaurant that showcases killer street artists. The large piece with an androgynous face and large, colourful butterfly glasses begs the observer to participate in the art. In fact, just standing there, a revolving fan base stops to pose and take photos in front of it. Look up #graffitiroom on Instagram and you'll see what we mean.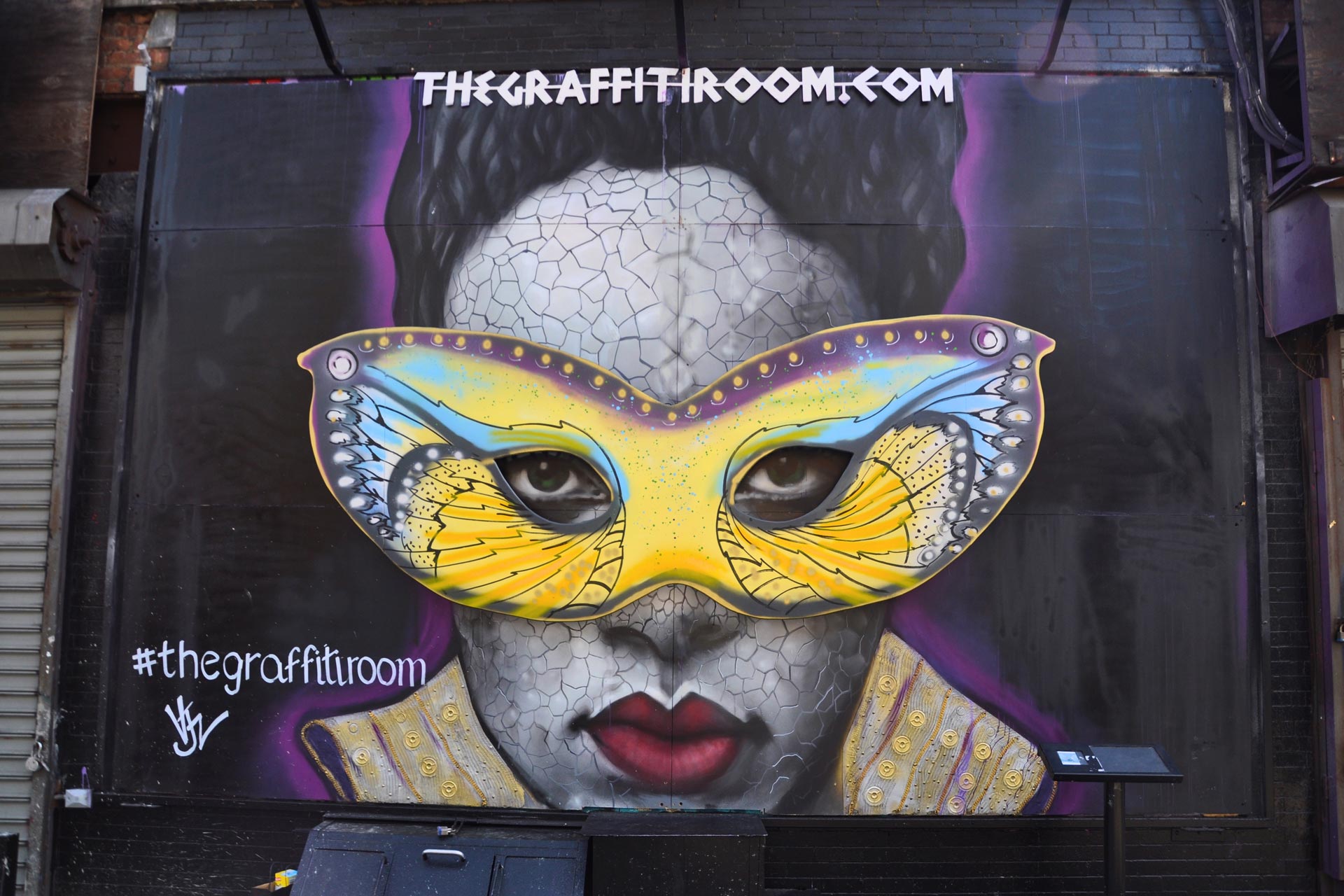 "In a museum, the whole experience is curated for you," Ruddy explains. "On the street, you get to interact with the art. Go touch it if you like. Take a picture. Get excited about the piece. Street art is a limited edition. It's point is 'fuck it'—it's here today and gone tomorrow."
---
Ruddy Harootian leads NYC Street Art tours on the regular. He has been featured on Huffington Post, AM New York, Check out his blog at www.ruddywashere.com and @ruddy_was_here on Instagram.